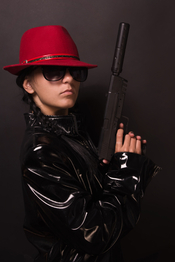 Elements of a Modern Thriller

We all know what a thriller is--don't we? The pulse-pound race through Middleastern alleys with machine gun bullets flying. Or is it the search for a holy artifact impeded by hosts of other searchers. Maybe it's both—or neither. What about the man threatening to blow up the local bank unless his demands are met?
Confused yet? I asked several of my author and reader friends for their opinions. They confirmed my observations of how broad the thriller category has become—with sub-categories of its own.
In spite of all the variety, four essential elements and a couple of optionals still define the basic genre.


Essentials:

1. Intense emotion, response to suspense and/or intrigue. How could you have a thriller without a thrill? The reader must be engaged in the main character's intense journey.
2. Big concept, big threat. The risk is to something fundamental, universally understood and it affects humanity or a broad community. i.e. a threat to kill a man unless he opens his home safe for the cash inside, is probably not a big concept story. But if the man is the vice-president of the United States or the safe contains the code to launch a nuclear missile, the answer quickly changes.
4. Fast pace. This has become the standard in thrillers. Multiple obstacles, increasing suspense, moving quickly from one threat to another. Sometimes the pace is revealed through car chases and flying bullets, but it can also be intense moments of menace, propelling the reader into the next electrifying scene.

4. Length. Oddly enough, there seems to be agreement that thrillers are about 90,000 words, slightly longer than today's average novel. Why? No one seemed to know for sure. Maybe a shorter novel doesn't have room for enough challenges. Whatever the reason, this general length is now established with many editors and publishers.

Optionals:


Superhero. It doesn't have to be Superman or Catwoman but the larger-than-life epic figure is a favorite in the genre: Mitch Rapp, created by Vince Flynn; Lee Child's Jack Reacher; Fleming's James Bond. But consider also the less obvious heroes and heroines in non-spy or non-military thrillers like Dan Brown's hero in the DaVinci Code.


Another common thread from readers was "it's gotta have spies," and I think that's a common misunderstanding. Espionage is only one of many thriller subcategories: legal, action, religious, technology, military, political, medical and many more. The boundaries are extended and blurred every day, especially with so many books now crossing genres. As long as a novel meets the first four elements, a thriller can be any type.
One last comment before I give you a chance to leave your own comments. A reader asked me why thrillers have less description, less imagery. I hope he meant less expository narrative or less landscaping, because the thriller authors I admire are meticulous about their detailing—from weaponry, to the hierarchy in terrorist organizations, to blueprints of airplanes, airports, hospitals, political buildings, ancient ruins or any other structures or objects at the center of their dramas. They are ardent researchers, always looking for the latest information on explosives, medicines, electronics or the recent Egyptian finds in the Valley of the Kings. They don't put less effort into the reader's experience, they just have a different emphasis.

So, now it's your turn. Did I miss anything or get it wrong? What elements take you on that roller coaster ride?