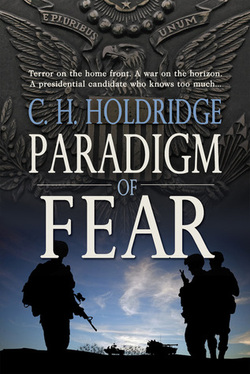 Terror on the home front. A war on the horizon. A presidential candidate who knows too much...

The wars in Iraq and Afghanistan are over and the upcoming election offers America hope for peace and renewed prosperity. But during a presidential campaign rally, the nation is rocked by two random acts of terrorism in Philadelphia and Baltimore. As the death tolls rise, more threats appear on the horizon, and the nation is once again a prisoner of fear. Major Joshua Parks, a highly decorated former Army Ranger and veteran of the wars in Iraq and Afghanistan, together with FBI Agents Patrick Gates and Sue Roberts, must find those responsible and bring them to justice.

In the midst of the chaos a new presidential candidate appears. Billionaire industrialist Alan Shapiro claims he's America's only hope against her enemies—namely Iran—and encourages America to protect herself by any means necessary. As civil unrest explodes, terrorist acts escalate, and the nation teeters on the brink of war, Parks must battle his own demons while he struggles to uncover the secrets that could tear apart the nation…

Buy Links (ebook and paperback):
Amazon: http://www.amazon.com/Paradigm-Fear-C-H-Holdridge-ebook/dp/B00DIBQV3I/
B&N: http://www.barnesandnoble.com/w/paradigm-of-fear-c-h-holdridge/1115762531

Customer Review: "I think the most frightening aspect of this book is that it could so easily happen."