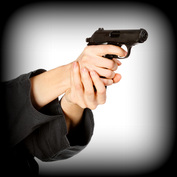 Meet Alexis Girard, an ex-CIA assassin and the main character of Pursuit of Terror, the first book in a thriller series I am currently writing/marketing.





Agent Dossier

Name: Alexis Marie Girard

Alias: Marie Taylor

Code name: Black Widow, (frequently referenced as "Spider")

Physical description: 29, caucasian female, 5' 8", lean and muscled, black hair, dark eyes.

Weapons: Glock 19, sometimes carries an Italian stiletto switchblade

Background: wealthy parents, father deceased, mother Washington area socilite; attended Amherst College. After graduation, she joined the CIA, where she was trained as an assassin; spent time with ATF drug enforcement in Mexico, four years in Special Operations, assignments in the Middle East and Asia. Two years ago, she resigned from the CIA and joined SIESI, Security Import & Export Services, Inc., a private black ops agency, specializing in domestic terrorism.

Family connections: maternal grandfather is the senior US senator from Maryland; paternal uncle works for French Intelligence.

Current assignment: Wherever terrorists are active within the United States

~ ~ ~ ~ ~

Pursuit of Terror: A chase across the Texas landscape to recover a kidnap victim and prevent an Election Eve disaster...

Invisible Assassin: A joint effort with the Israelis to stop a terrorist plot to unleash a silent killer.

To see the short story titles or read an excerpt from "Code Breaker" look under the Thriller tab or click here: http://www.janetlbuck.com/thriller.html.